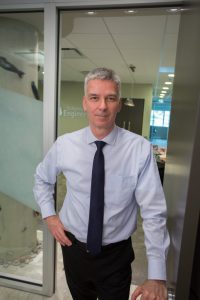 B.Sc. Electrical Engineering, Queen's University 1985
*Certified Fire and Explosion Investigator
Areas of Practice
Fire Protection Engineering

Performance-Based Solution
Fire Systems Design
Fire Systems Commissioning

Fire Modeling
Building and Fire Code Consulting
Fire Safety Planning
Authority Relations
Forensic Investigative Engineering
Due Diligence
Professional Experience
RJ Bartlett Engineering Ltd, Fredericton, NB 1995 to Present
Project Coordinator (2021 – Present)
President (2016 – 2021)
General Manager (2000 – 2015)
Fire Protection Consultant
Leber/Rubes Inc., Toronto and Ottawa, ON 1988-1995
Rolf Jensen & Associates Ltd., Toronto, ON 1985-1988
Fire Protection Systems Designer
Code Consultant
Commissioning Agent
Affiliations
Registered/Licensed with Professional Engineering Associations in the following Provinces and Territories:

Alberta
Manitoba
New Brunswick
Northwest Territories
Nova Scotia
Nunavut
Ontario

Society of Fire Protection Engineers (Member)

Consulting Engineers of New Brunswick (President, 1998 – 1999)
Association of Consulting Engineers of Canada (Board, 2003 – 2007)
Committees
FiRECAM Atlantic Working Group
Society of Fire Protection Engineers

Member of Performance-Based Fire Protection Analysis and Design Task Group

Association of Professional Engineers and Geoscientists of New Brunswick

Admissions & Internship Committee 1996 – 2002
Consulting Practice Committee 2000 – 2001 (Chair)

Canadian Standards Association

Member, Former Technical Subcommittee on Health Care Facility Commissioning

Underwriters' Laboratories of Canada

Member of Inspection and Testing (S536), Verification (S537), and Ancillary Devices (S573)

National Building Code of Canada

Member of Standing Committee on Use and Egress, 2009 – Present
Papers and Presentations
The following represents a sample of the presentations/articles by Ian MacDonald.
Alternative Solutions Process, Manitoba Building Officials Association, Winnipeg, MB, 2019.
National Building Code, Fire and Emergency Services NL, St. John's, NL, 2015.
Fire Safety Plans, City of Charlottetown, PE, 2012.
Intents and Objectives of the National Building Code, Department of Foreign Affairs and International Trade, Gatineau, QC, 2011.
Sprinkler and Standpipe Systems, New Brunswick Building Officials Association, April 2008.
Part 3 of the National Building Code, Daltech, 2003/Present.
Objective-Based Codes and Performance-Based Solutions, Daltech, 2002/Present.
Effective Application of Codes Technical Seminars, Halifax, NS, November 2000.
Performance-Based Solutions, New Brunswick Building Officials Association, 1999.
Part 4 of the National Fire Code, Nova Scotia Association of Fire Chiefs, 1998.
Fire Protection for the Palladium Arena Complex (Corel Centre ), Society of Fire Protection Engineers, Ottawa, 1995.
"Smoke Control Systems Commissioning: A Team Effort", Canadian Consulting Engineer, July/August 1991.
Development and Application of Fire Exposure Requirements, Ontario Building Officials Association, 1987.